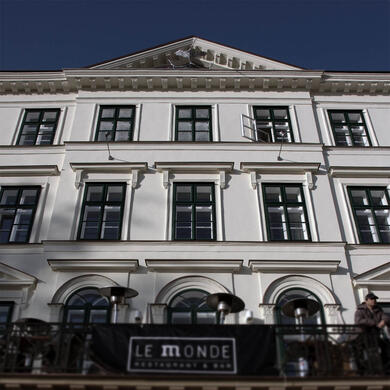 History of the object dates back to 13th century, at that time the house was part of the city fortification system. In year 1845 was completely rebuild by famous local architect Ignaz Feigler senior a became known as KERN house. Its location on Hviezdoslavovo square right next to the National opera house and Hotel Carlton is one of the best in town.
The whole reconstruction respect the historical value of the building. The main facades were just restored to its original apereances. The new additions concerns maily attics where two floor in the existing roof structure were addet. With a glass courtyard on the top. The existing solid typanum was replaced with a glass one and a new sculpture by Martin Lettrich was addet. There are new luxurious flats in the attic, below few floors of administration and the first and groundfloor host prominent Le Monde restaurant. The basement is reserved for a private club.
Memorial plaque of the meeting of Vladimír Clementis with Indhira Gandhi and Džaváharlál Néhrú is located on the corner of the house.